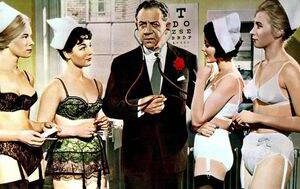 The Carry On film franchise primarily consists of a sequence of 31 low-budget British comedy motion pictures (1958–92), four Christmas specials, a television series of thirteen episodes, and three West End and provincial stage plays. The films' humour was in the British comic tradition of the Music Hall and bawdy seaside postcards. Producer Peter Rogers and director Gerald Thomas drew on a regular group of actors, the Carry On team, that included Sidney James, Kenneth Williams, Charles Hawtrey, Joan Sims, Kenneth Connor, Peter Butterworth, Hattie Jaques, Barbara Windsor, and Jim Dale.
The stock-in-trade of Carry On humour was innuendo and the sending-up of British institutions and customs, such as the National Health Service (Nurse, Doctor, Again Doctor, Matron), the monarchy (Henry), the Empire (Up the Khyber), the military (Sergeant) and trade unions (At Your Convenience) as well as the Hammer horror film (Screaming), camping (Camping), foreigners (Abroad), beauty contests (Girls), and caravan holidays (Behind) among others. Although the films were very often panned by critics, they proved very popular with audiences.
The Carry On series contains the largest number of films of any British series; and, next to the James Bond films, it is the second-longest continually running UK film series although with a fourteen-year break (1978–92). Anglo Amalgamated Film Distributors Ltd produced twelve films (1958–66), and the Rank Organisation made the remaining nineteen (1967–92).
Virtually all of the films set in contemporary Britain featured bra and panty sequences, usually in the form of wardrobe mishaps, dressing scenes, or gratuitous panty shots.