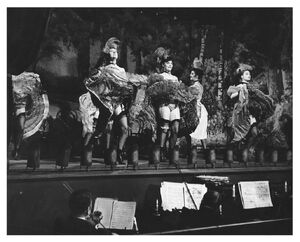 Jack the Ripper
was a 1959 film produced and directed by Monty Berman and Robert S. Baker, loosely based on Leonard Matters' novel
The Mystery of Jack the Ripper.
Scripted by
Hammer Productions
' Jimmy Sangster, the film starred Lee Patterson, Eddie Byrne, Betty McDowall, and John Le Mesurier.
The film shows clear parallels to the previous year's Haunted Strangler, employing the identical motif of a serial killer stalking nightclub performers around the West End. The dance number was performed by the Ballet Montparnasse in one of their two credited screen appearances, and is one of the best remembered cancan scenes of the late Fifties.
Several versions of the original print are known to exist, including two formatted for wide screen and television and a French dub which contains additional scenes. Alternate titles include Jack l'Éventreur, Jack lo squartatore, Jack o anterovgaltis, De vrouwendoder and Eine Stadt sucht einen Mörder.
• Not to be confused with the 1958 telemovie hosted by Boris Karloff.