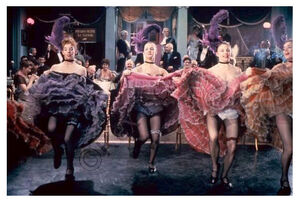 The Two Faces of Dr. Jekyll
is a 1960 horror film by Hammer Film Productions. It was directed by Terence Fisher, and stars Paul Massie as Dr. Jekyll, and co-stars Dawn Addams, Christopher Lee and David Kossoff. It was written by Wolf Mankowitz, based on the 1886 novella Strange Case of Dr Jekyll and Mr Hyde by Robert Louis Stevenson.
In contrast to other film versions, Jekyll was portrayed as a rather bland and faceless person, while Hyde was presented as suave and handsome. This reflects director Fisher's belief in what critics (such as biographer Wheeler Winston Dixon) called "the charm of evil". The film is also unusual in that it is one of the few where the Jekyll/Hyde character does not die in the story's conclusion. The film was released in North America under the titles House of Fright and Jekyll's Inferno.
Unusually for an English film, the cancan girls wear fishnet tights beneath brightly coloured petticoats. This was an odd oversight, considering that lead actress Dawn Addams appeared in a black corset with suspender stockings later in the movie.